Goals
Socialization

At Poochi Pet Resort your dog will exercise and socialize with other dogs. As a result, you'll have a happy, more fit dog. Activity at Poochi Pet Resort will eliminate boredom and separation anxiety behavior such as chewing and barking. Poochi Pet Resort daycare is a good solution for youngsters with lots of energy, and older dogs who need to go outside more often. We give medications, snacks, and can accommodate special needs.
Exercise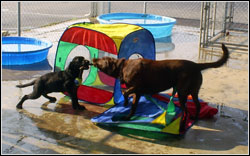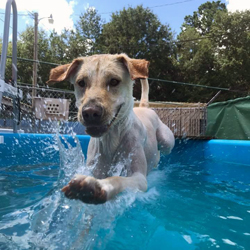 The playground equipment and toys at daycare are designed for dogs with different levels of difficulty for mental stimulation and confidence building.
The Poochi Pool is available seasonally for those who enjoy floating and swimming, complete with floats, toys, and lifeguard. We, also, have the Poochi Gym to work core strength, balance, and mental development.
Newcomers
There is a careful introduction of newcomers to keep everyone happy and safe.
How Early To Start?
We accept dogs 4 months and older who have completed their shots and have received a bordetella vaccine. All shots must be kept current.
Baths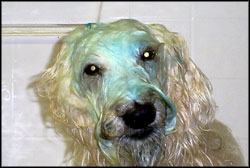 Your dog may get dirty playing all day. We offer a bath and dry if scheduled in advance for an additional charge. Many of our daycare clients enjoy a ½ day of play and then a bath to go home clean and fresh.